In the latest episode of Naggin 3rd, September 22 of 2018 Shahnawaz Hypnotizes Bela/Mahir and Vish reach Shahnawaz's cave. The episode starts with Mahir continues finding to Bela at home. Vish becomes the snake and moves out of the house behind Mahir. She stands on a door and thinking that she has to save Bela somehow.
Mahir saw her and asks what is she doing here. Vish said Shaaan took away her. Shaan and Shahnawaz reach outside his cave and said that they have reached their destiny. Sumita, Paulo, Anu, Kuhu, etc, happy dance. Shanawaz askes to Bela to come out and holing his hand thinking she will escape. Shanawaz said their wedding will begin soon and she ha to chant holy verses and marry him.
Bela ran away silently. Shahnawaz smiles and he shows very happily. Bela reaches cliff end. Sumitra and Anu came there and aks what is she was doing here and forcefully took her back. Bela continues pleading to leave her, they all are hypnotized by Shahnawaz. He said that she is correct, they all are so happy and there is no hate for her. Bela warns to let her go. He gave knives to Sumitra to stop him. Shahnawaz orders them to stop.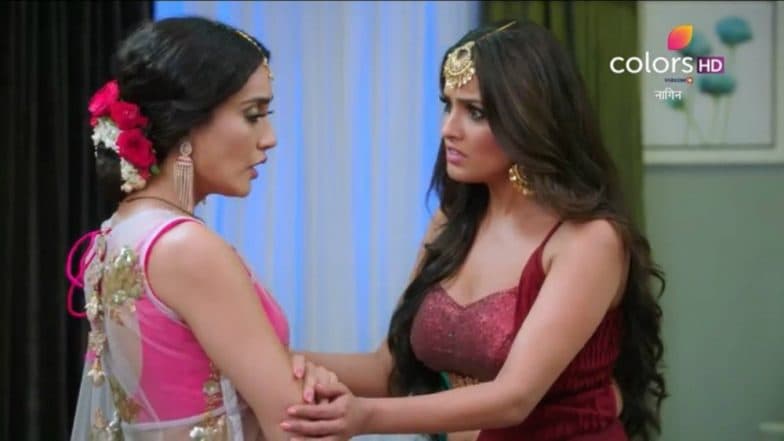 Mahindra continues asking Vish that where is Bela. Vish uses her powers and found out how Shahnawaz kidnapped Bela and she both were trying to escape, etc. Mahir said that he just needs his family back, what is she doing. She asked to follow him and asks him to drive the car. She thanks Bholenath for giving back her power and finds out Sahnawaz's cave. He noticed that and thinks Vish cannot find out the world he has created, she will not know where this cave is, nobody can go out from here alive. He makes the protective barrier around the cave.
Shahnawaz trashes Mahir and says Bela loves him. Mahir shouts in a loud voice and said that Bela is married to him. Bela says she had married him, signs divorce papers and said she is free now.