Durga Puja is one of the auspicious festivals, it is celebrated in some states of India and the duration of its festival is 6 to 10 days. mostly in north India, it is celebrated as Navratri. In spite of so many verses in India, the last four days of Maha Saptami, Maha Ashtami, Maha Navami and Vijay Dashami are especially important for everyone and it is celebrated with great fervor and grandeur across the country.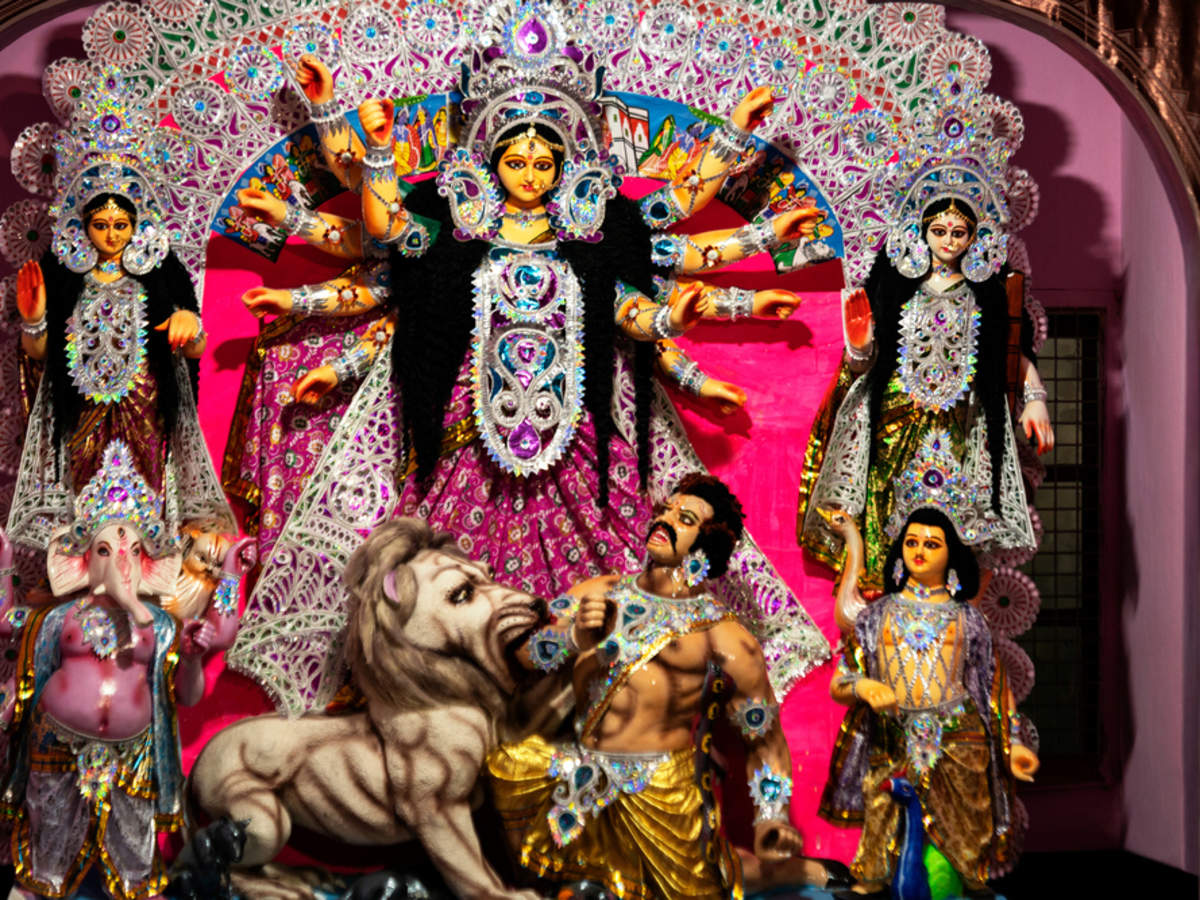 Especially this festival is celebrated by remembering the victory of Durga Maa from a demon named Mahishasura. During the mythology of Hinduism, Durga Maa had protected the people of the earth from the demon and according to the stories, they fought this battle on the seventh day of Navratri This day is also known as Maha Saptami. Because on the last day of Vijayadashami, Durga Mata won the victory of good over evil by destroying a demon-like Mahishasura.
This year, Durga Puja starts on October 22 and ends with Vijayadashami on October 25. These five days of Durga Puja have different Samahrohas and also include unique rituals about which you hardly know, then let us discuss them all in detail.
Bodhan
Actual Durga Pooja is started with the thing named by the Bodhan festival at Bodhon, the sound of the face of the goddess is open between the sound of the Dhak (drum) and the Shankha Dhwani or conch. On Shashi, most of the people wear new clothes on this occasion.
Kola Bou Snan
The next day begins as Mahasaptami which begins with a ritual called Nabapatrika or Kola bo bath. A small banana plant is taken during this ritual as it symbolizes the wife of Ganesh Ji, who is wrapped in a red sari bordered saree and then bathing near the river or any stream, let us tell you that This banana plant is not common. It has eight leaves of eight auspicious trees. Banana plant and eight leaves represent nine incarnations of Goddess Durga. This Nabapatrika is very important for the farmers. It has a lot of value in their lives. Farmers in West Bengal pray on this day for a good harvest.
Kumari Puja
On the day of Maha Ashtami, we worshipped Kumari Puja, Anjali, and sandhi puja. During kumari puja, a small girl is worshipped as a Durga Maa. usually, we offer flowers to Durga Maa it happens around mid-day. thousands of people gather together for worship in the pandals.
Shandhi Puja
worship Shani before the end of Ashtami. It is in the form of a grand ritual in which one hundred eight Diyas are dedicated to Goddess Durga and houses and Yagya are kept as well as worshiped with the light of the Chandni path or mantras. The next day is Mahanavami which is the last day of Navratri.
Dhunuchi Naach
Dhunuchi dance is the most special part of the ceremony which is usually performed after the Aarti on the evening of Ashtami and Navami, during which people wear new attire and dance with coconut husks, powdered incense and camphor filled or pottery and Along with this, the coconut husk is burnt with incense and camphor which creates a different atmosphere. Not only does the joy of this event attract the worship pandals and the atmosphere of the pandal becomes very religious.
Sindur Khela and Visarjan
Durgapujan ends on Vijaydashmi before this main fest is the immersion of statue of the god, Boron next year, and until or bid Ma Durga farewell Sindur Khela. Married women plant sindoor on each other and exchange sweets and wish for a happy year ahead. And for the next year, Matarani prays for it to come again and bid him farewell.