Every Bigg Boss contestant comes in fame and headlines whether they are not a part of Bigg Boss anymore. So, today's crispy news is Bigg Boss 12 contestant and singer Jasleen Matharu shared some pictures on this Thursday. After fans see her pictures, everyone wants to know the reality between those pictures.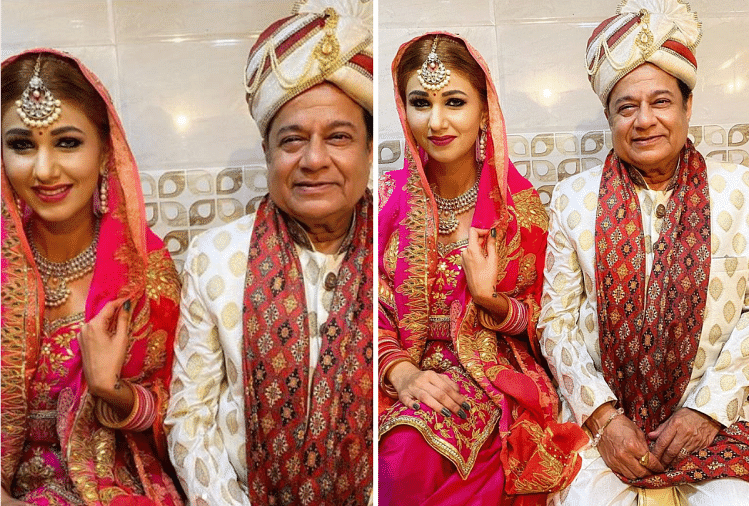 Singer Jasleen Matharu shared pictures without any caption which confuses fans too much. If you want to know all the details then read this article. We give you all the information about those pictures and the unknown reason for sharing this type of picture.
The picture shows Jasleen Matharu and veteran singer Anup Jalota in wedding finery.
In which Jasleen Matharu wears a dark pink and heavily embroidered silk salwar kameez with alluring jewelry. She is sitting next to Anup Jalota and also wearing chooda.Anup Jalota in a Sherwani and a shawl with a pagdi were completely making fans confused about the relationship. All the fans are wanted to know more and comment on the pictures.
So, the reason behind the pictures is the set of an upcoming film named "Yeh Meri Student Hai." At the very beginning of Bigg Boss both the stars come in the headline for their relationship but Anup Jalota clarified that in a later episode that "Jasleen is his student. The relationship between both is student and teacher relationship." So, all the pictures shared by Jasleen Matharu are from a set of film Yeh Meri Student Hai.
In this year July, Jasleen Matharu revealed that and said "Anup Ji introduces me to Abhinit Gupta who is a Bhopal-based doctor. Anup Ji and Abhinit's father are friends and I was back from Bhopal after staying 15 days there. I met Abhinit and his family and we both spent quality time in Bhopal.
This was our first meeting but we have been talking on calls and video calls for three months. We ever shot for a song in Bhopal." So, after knowing all these, the pictures are all about the upcoming film "Yeh Meri Student Hai" and the purpose of sharing these pictures is all for fans and some interesting fun.